As part of our ongoing Summer Collection, we wanted to design a feature that makes the consultation process easier, quicker, and safer for Phorest salons and clinics. Understanding the unique needs of medi-aesthetic professionals in particular, we are thrilled to introduce our latest innovation: Premium Consultations.
Engage. Explain. Enhance.
In any clinic or spa, client safety is paramount. That commitment starts from the moment an initial consultation takes place. Developed in response to feedback from hundreds of medi-aesthetic clinics, Premium Consultations offer a powerful digital solution that ensures accuracy, transparency, and safety; every time.
Premium consultations are a step above the standard digital consultation form package, designed with a host of advanced features to help you perform thorough assessments and give exceptional customer service. From clear face-mapping to accurate mark-ups, colour-coding, and timestamped images, stay ahead of the competition and give your clients the top-class care they deserve.
Clear communication, impeccable care
When conducting a client consultation, visual communication is vital, helping to put your clients at ease and show the progress and results of the treatment that they're investing in. Premium Consultations allows you to upload a photo of your client or use a pre-loaded template and mark up the image with a range of annotations. Whether you prefer using our selection of drawing tools for precision or freehand functionality for a personal touch, the possibilities are endless.
With Premium Consultations, you can:
Upload high-resolution images that make detailed treatment plans easier
Record notes and add text directly on the image
Mark injection points and product dosages
Emphasise specific treatment areas or blemishes using colour-coding
Premium Consultations are yours to customise.
What sets Premium Consultations apart is its versatility
This feature is not limited to aesthetic clinics specializing in injectables or medical facials. Upload a photo of your client's face and note their preferred makeup style, or use an image of the body to document the specific areas targeted during a massage. An emphasis on visual communication helps you to connect with your clients on a whole new level, making their desired transformations a reality.
Track markups for peace of mind
All markups completed in Premium Consultations are timestamped and cannot be edited after saving. By locking down markups and edits once finalised, Premium Consultations prevents any inadvertent mix-ups with staff and gives peace of mind that client records cannot be tampered with. Premium Consultations also protect your clinic, providing you with a digital record in the event that a client is unhappy with their treatment results.
View before & after images, side by side
The magic of our industry lies in the incredible transformations we perform, day in, day out. See your clients' progress and immerse yourself in their transformation journey by comparing before and after images.
Upload high-resolution images directly from your desktop or mobile phone gallery, and compare them side by side with ease, showing your client their results instantly or over a set period of time. Before and after images and markups are stored in the same section of Phorest, giving you all the tools for a successful post-treatment debrief in one place.
Like our standard Phorest digital consultation forms, all images stored within Premium Consultations are synced directly to your clients' profiles, allowing you quick and easy access that you can revisit at the click of a button.
Keep things synced & simple
Busy clinic owners need technology to simplify things, which is exactly what Premium Consultations does. Available on both Phorest desktop and PhorestGo 2.0, Premium Consultations empowers you to perform top-class consultations that remain consistent, even if different treatment providers are working with the same client.
Say goodbye to handwritten notes, physical client files, and illegible, hand-drawn face-mapping for good, and add that extra layer of data protection to your clinic's offerings. With everything stored digitally and protected in our GDPR-compliant software, you can ensure a safe and reliable consultation every time.
Ready to See It In Action?
Learn more about Premium Consultations by visiting the Phorest Helpdesk
The Salon Floor Series Episode 4: When Phorest Met Brian
The Salon Floor Series are short films where we meet real Phorest salon owners where they are at–on the salon floor– to understand how Phorest fits into their typical day. This week, we're travelling to Sisu, a multi-location aesthetics business with clinics across Ireland, the UK & the USA. We're speaking to Brian about how his team uses Phorest to offer a professional, consistent client experience to his visitors across the globe.
What will you learn next?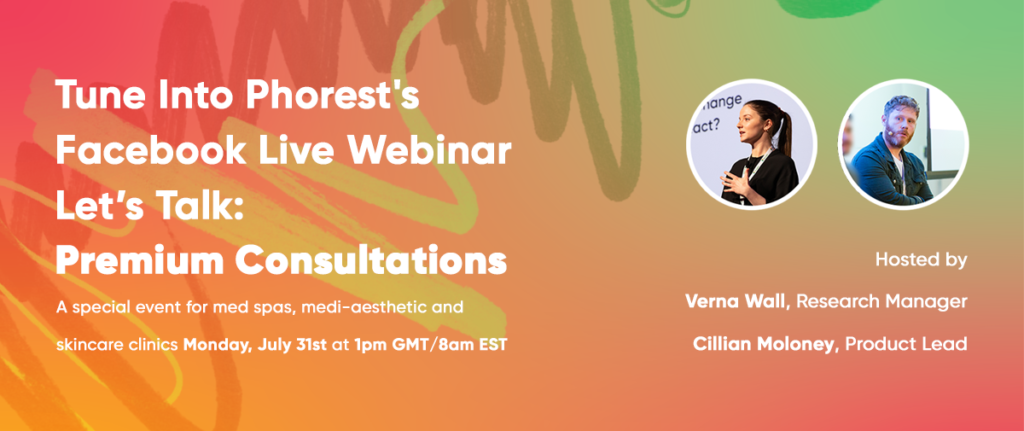 Ready to see exactly how Premium Consultations can supercharge your salon, spa, or clinic? Tune into our Facebook Live Webinar; Let's Talk: Premium Consultations with Verna & Cillian on Monday July 31st at 1pm GMT to learn more about this feature in detail.
Phorest Salon Owners Summit attendees got a sneak peek of the Summer Collection in January
Want to be at the centre of the action next year? Get ready to ELEVATE your business at Europe's premier industry event for salon, clinic, and spa owners, the Salon Owners Summit in Dublin, Ireland. Kick off the year with more groundbreaking product demos, chats with the Phorest development team, and a world-class ensemble of speakers and special guests. Plus, a chance to network (and party) with hundreds of other like-minded professionals from all over the world. What are you waiting for?
Book Your Tickets to the Salon Owners Summit 2024. Act fast to secure the best early bird price.
Are you summer ready?
Learn more about Premium Consultations and all the new features in our Summer Collection.
#TogetherWeGrow