A couple of weeks ago, we had the pleasure of catching up with our dear client Susan Routledge here in the Phorest HQ. As some of you will know, Susan started out 25 years ago with a small salon in the North East of England and that has built up into an award winning business. In the last number of years she has spent more time coaching other salon owners and has just written a fantastic book called the 'Little Book of Client Retention.' (keep reading for your chance to win a copy)
Susan had been trying to get out of her column for years but was afraid that lots of clients would stop coming and the turnover of the salon would go down. Like many of you, that was something she just couldn't afford to do so she kept putting it off. In this video Susan reveals how she made the bold move to stop working in her business so she could start working on it.
But before you press play…
We're giving our readers the chance to win a copy of Susan's book (RRP £9.99). We have five up for grabs. All you have to do to enter, is ask Susan a question in the comments below. Here's the best bit – Susan is also going to give you a personalised video response to every question asked in the comments below. Best of luck!
Without further ado…
We hope you enjoy and don't forget to ask a question for your chance to win a copy of Susan's book.
(Note: we were having  a few problems with the mic that day unfortunately, hence the underwater effect. 😉 )
Click on the image below to play the video: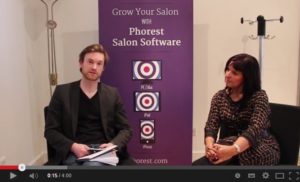 Susan Routledge will be a Keynote speaker at the upcoming Ultimate Beauty Workshops in London and Dublin.
Ronan Perceval is CEO and Founder of Phorest Salon Software.
Why not request a demo of our salon software today? We can help you get more clients, back more often spending more!