We have all been there – trying our best to keep cool, calm and collected while a toddler is screaming at the top of their lungs. That's just the way it is, kids can be difficult. Whether it is the child who is your client or mommy has brought along her little one to an appointment, the situation can get tricky either way. Here are a few things you can do to make it all easier on yourself, on your client and their child. 
1. A 'bribe' is the way forward!
If the child is your client and it is your job to give that fidgety 4-year old a haircut, some form of a 'bribe' is definitely the way to go! Have a supply of lollies and balloons at the ready – most children will be distracted by a treat and will not even notice what exactly you are doing. Don't jump straight into the cutting, give the child a few moments to adjust, present them with the lolly first and avoid saying the word 'cut' as kids usually associate it with pain.
In slightly more difficult cases grab a tablet (or anything with a screen and internet connection) and play a cartoon for them – this usually works a treat, the child will be distracted and you can get to work.
2. Child-friendly products
If you do offer a service aimed at kids, make sure you have a good range of kiddie-friendly products available as they are generally much more gentle and often come in fun, colourful bottles!
Ensure that your younger clients are as comfortable as they can be – get a special child seat and a fun coloured hairdresser cape.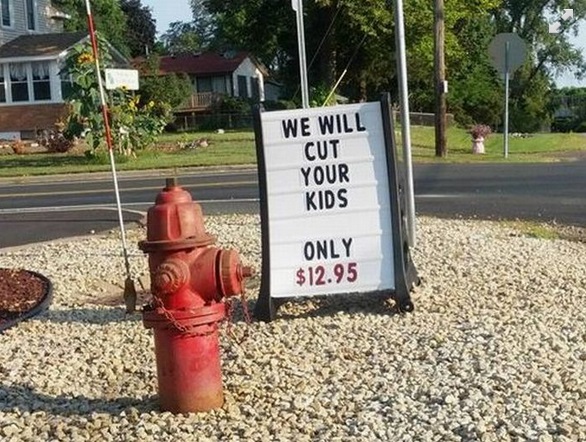 3. Arrange a play corner
If you have a lot of clients visiting you with children consider dedicating a small bit of space to a 'play area', where the mum is close enough to see her little one but also far away enough to enjoy her  treatment and relax. It doesn't have to be huge, a small table with kiddie chairs, some games and colouring books will do. This will keep the kids occupied and most importantly out of everyone's way to avoid accidents.
4. Special packages for kids
This is a little bit of a controversial one and we are not suggesting you offer fake tan, gel nails and hair colour to toddlers. But a little 'princess manicure' that involves a clear or pale nail polish or an aromatherapy foot soak may be a good idea for girls who come in with their mums.
Group beauty parties for older girls seem increasingly more popular these days. Consider offering birthday pamper parties that include some cute nail art, a gentle face mask, some tasty treats and a goodie bag to take home.
…and a live post update with Tip No. 5
We can't take credit for this one, it was tweeted to us by the lovely Sam from The Potting Shed Spa. Definitely the cheapest way of dealing with kids in your salon…

Alex Quinn is part of the marketing team at Phorest Salon Software & a blogger for Pink Elephant Blog. Email Alex for some marketing advice on marketing@phorest.com. Let's Grow!