You probably already use Facebook "boost post" functionality, but if you don't, the principle is quite simple. Facebook allows you to boost posts – i.e. invest money on a post to promote it – to avoid losing social media audience.
Boosted posts are quite easy to set up, however it might still happen that you encounter some errors. Many times, people don't really question these errors and simply go on to boost something else. Here's how you can easily resolve 5 of the most frequent Facebook salon advertising errors.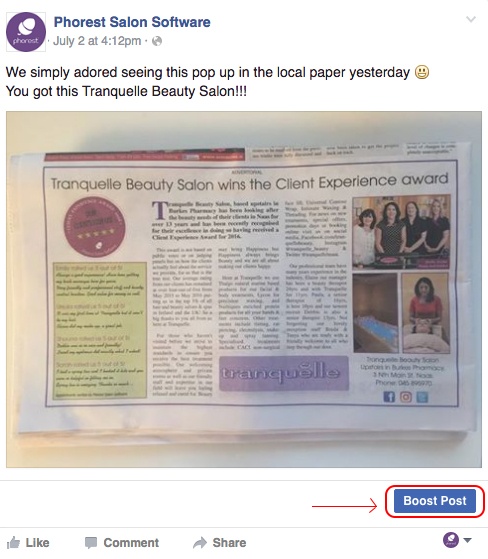 Boosting Is Marked As Unavailable
This can happen for multiple reasons:
You are trying to promote a past event, which Facebook doesn't allow.


Update your event's date and try boosting again.

Your page role doesn't allow you to boost posts.


Reach out to one of your salon page's admin and request they set you up as an administrator, advertiser, moderator or editor.

Your Salon page hasn't been published yet.


In this case, you need to activate your Facebook page.

You are trying to boost a photo album.


This one can be a little tricky as some photo albums aren't eligible to be boosted.

See more here.

Editing or Ending A Boosted Post On Salon Facebook Pages
At the moment, Facebook salon advertising with boosted post does NOT allow editing after you've submitted your ad for review. Why would you want to edit a post?

There are a few reasons for this: maybe it's a typo, a broken link or a wrong image. Regardless of the mistake that has slipped its way in, you will need to delete the boost before being able to make an edit.
Two-step method:
Delete the boost.


Go to the post and click on the bottom right button displaying your boosting budget. Then, click on the wheel icon in the bottom-left of the window, select Delete > Delete Ad.

Edit your post (If it hasn't been boosted).


On your post, click the top-right arrow for options, select edit, type in and click Done Editing when you're satisfied with the changes.
If for some reason you boosted the wrong post – it's happened to me before, which is why I mention – then simply do step 1 above.
Your Boosted Post Is Not Hitting The Estimated Reach
One thing to understand is that the "Estimated people reached" tool on Facebook is based on multiple factors: the average performance of all boosted post ads you have put out, the size of your audience, its competition, the budget you set and what makes your ad.
To protect itself, Facebook put emphasis on the fact it is only an estimate, a tool to help you figure out how much money you wish to spend. I would greatly suggest you keep track of how your post is performing.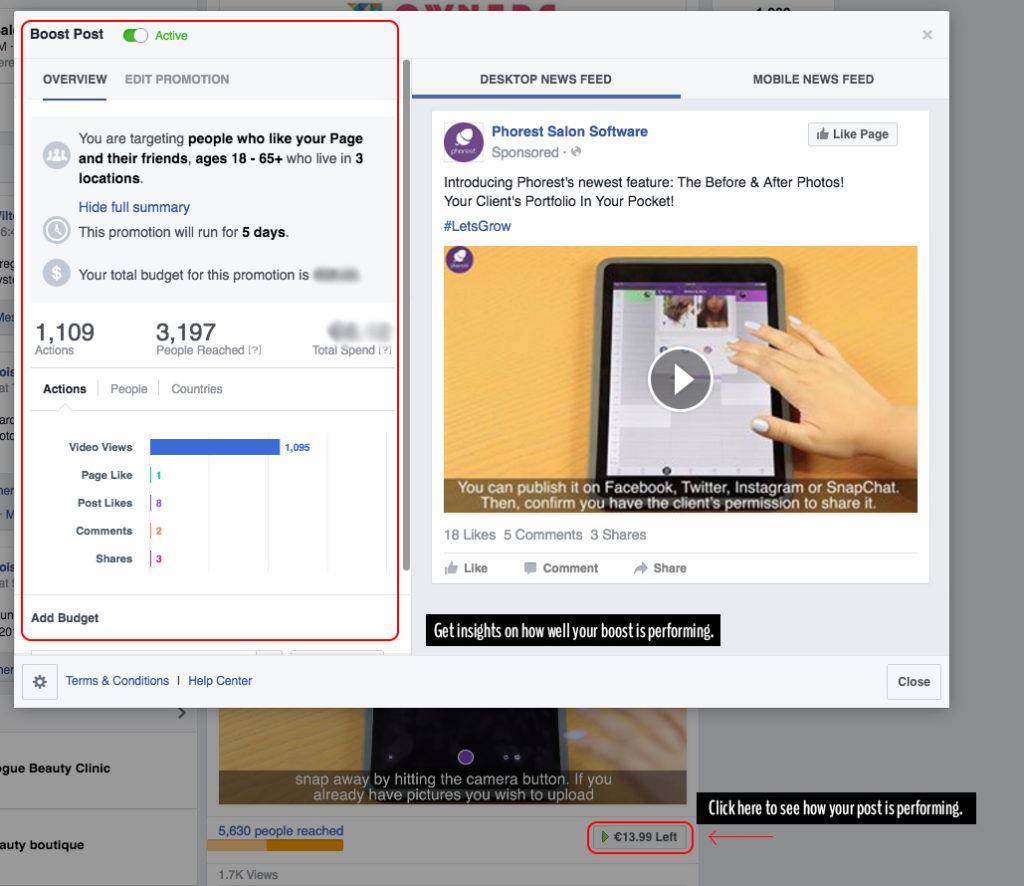 (Click image to zoom.)
"If there are more boosted Page posts running than estimated when you boosted your post, the price will increase and reach will decrease. You will only be charged for the actual reach of your promotion."

Facebook For Business
Your Facebook Salon Advertising Account Has Been Disabled
If you see this, the giant social network is very clear. When they review advertising content, they occasionally disable accounts that don't follow its Ad Policies. It can be quite frustrating as sometimes the account is being disabled by error.
However, if you're experiencing this problem, go take a look at your Ads Manager and follow the instructions left for you in the red box sitting at the top of the page.  To read more about Facebook's Ad Policies, click right here.
Your Boosted Post Is Not Approved By Facebook's Standards & Guidelines
This will happen if your ad doesn't comply with Facebook's standards and ad policies. One of the most common errors is that there is more than 20% of text appearing in the ad.
Here is an example of an image of ours that is deemed a little too 'Text-Heavy.'
The good news is that Facebook have a tool for checking to see if your images are okay! It's called The Text Overlay Tool.

If your ad isn't approved, you will receive an email explaining the decision, information that is very useful to edit your post and then re-submit it for review. However, if you believe Facebook's review was wrongful, you can always challenge the review by filling out this form.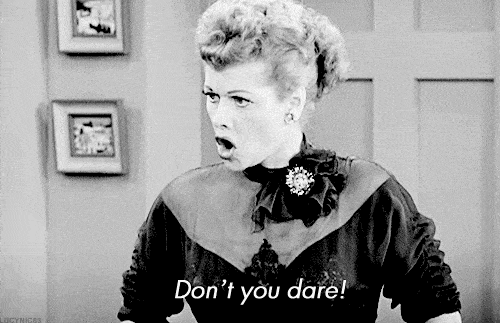 So there you have it! The 5 most frequent advertising errors you can face when promoting your salon page to the public.
If you are looking for more information on Facebook salon advertising specifically, you might enjoy our Salon Owners Ultimate Guide To Facebook. You can access your new ebook right here:






To stay on top of the latest salon marketing tips and ideas, subscribe to our mailing list by clicking on the blue button "SUBSCRIBE" at the end of this post!
Are you not a Phorest client? Why not request a demo today and see all the other ways our software can help you get your clients in more often, spending more.

Thanks for reading!
#LetsGrow