There's a particular energy that circulates on the salon floor that's like nothing else in the world. In fact, it's what drew our founder and CEO Ronan Perceval to work in this industry in the first place. We know our industry creates magic every day. And while we'd never wish for it again, the pandemic has made more people understand all that salon staff do. It is more than hair, or nails, or lashes. Ask anyone who works in the industry.
The magic is in the moment when you spin your client around in the chair, or when you hold up the mirror and reveal their transformation. The magic is in the smile that comes over their face in that instant, the refreshed, confident body language they assume. The magic is also in the sense of community and connection that is created in a local salon. A salon is a place where people can come and feel cared for and listened to. Not to mention, the special relationship that can often develop between a stylist, barber or beauty therapist and their client.
In fact, according to new research by Phorest, 23% of the Irish public turns to their hairdresser, barber or beauty therapist when they need someone, outside of friends and family, to confide in about their life experiences. This ranks above the number of Irish people who would talk to a spiritual leader or even a therapist.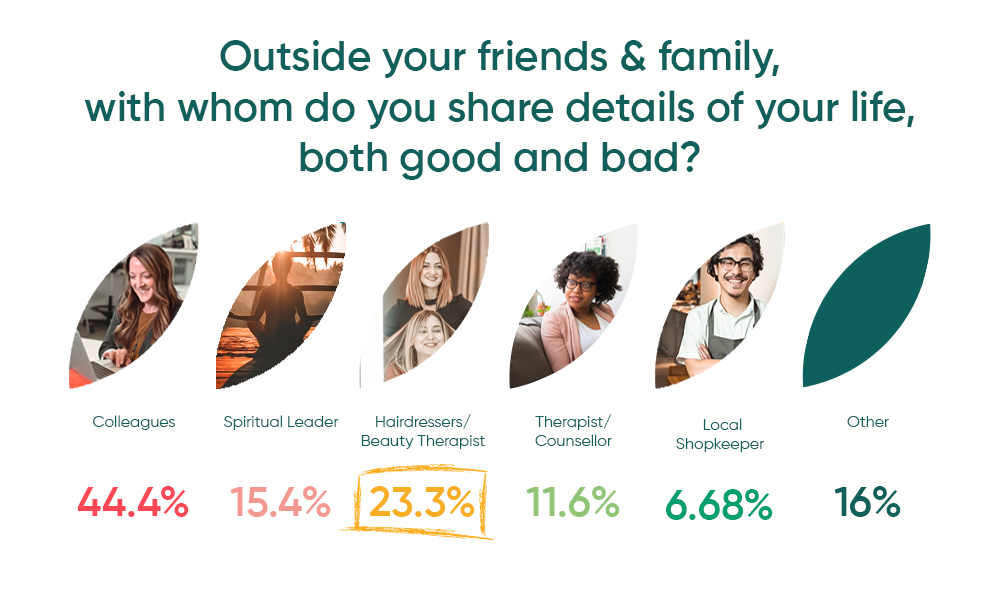 The pandemic has been an ever-evolving obstacle course for salon owners.
Over the last years, you have shown incredible adaptability, dealing with numerous lockdown closures, accommodating new social distancing and health measures and training staff accordingly. At Phorest we have had a front-row seat to your show of resilience. You have found ways to continue business and career development and stayed in contact with clients while we couldn't all be together. While salons may have been deemed 'non-essential businesses' for the purposes of Government health advice, we know what a vital part they are in every local community in Ireland.
This is why, as Ronan Perceval, CEO of Phorest Salon Software, commented,
'"The results of this survey are no surprise to us. Working with salon owners every day, we see the passion and care they put into looking after their clients."
When Irish salons were finally able to open their doors again in May, they were met with an outpouring of support and enthusiasm from clients. Similarly, when we asked in our survey if people felt there were any groups (aside from healthcare workers) whose place in society had gone underappreciated until the pandemic, 26% of the Irish people chose hairdressers, barbers and beauty therapists.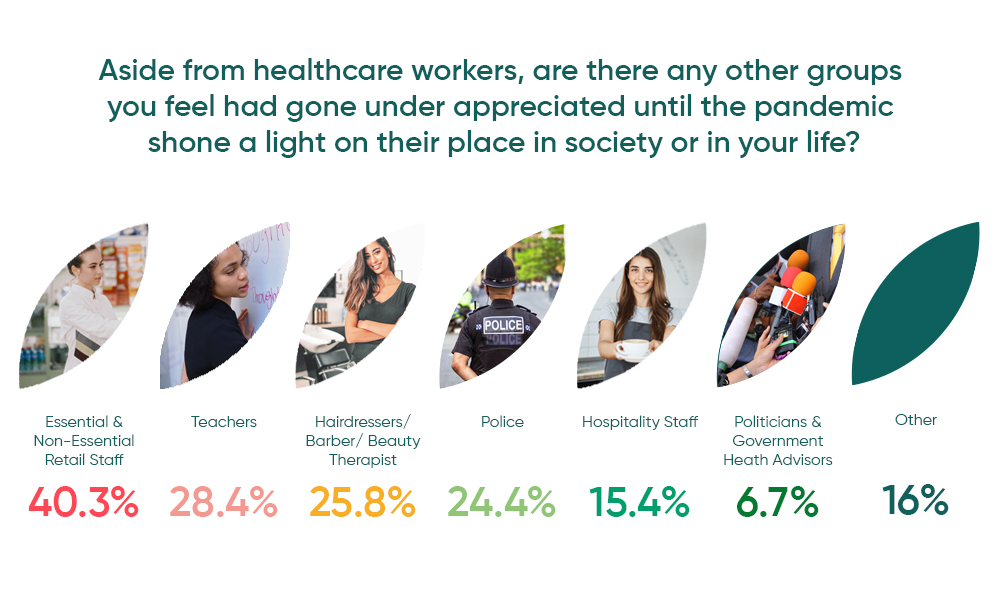 Phorest is Proud to Announce Salon Appreciation Week
This year we are shining a light on the profound impact that hair and beauty professionals can have on people's lives with a week of celebration and storytelling. You have helped us fix our regrettable lockdown haircuts, box dyes, and DIY beauty treatments gone awry. You have welcomed us back to the salon with open arms. You have given us the opportunity for self-care and much-needed chats. You have helped us to feel like ourselves again. So now is our chance to say 'thank you.' And while Phorest will continue to celebrate the hair and beauty industry every day, we wanted an occasion for more people to be able to join in–and to see some of the magic that we get to see.
From the 1st of November to the 7th of November, for Salon Appreciation Week, Phorest will be sharing stories from both clients and staff that encapsulate what makes this industry so special.
Read Bernadette & Tara's story
Read Christian & Julie's story
We are also calling on the public to show their love for their favourite salon by leaving them a passionate Google or Facebook review describing their experience.
This comes with a chance to win €1,000 worth of treatments at the salon of their choice. Entrants will need to be following @phorest.ukie and should screenshot their review and share it to their own social media account, using the hashtag #SalonAppreciationWeek. Don't forget to tag both the salon and @phorest.ukie.
Want to get involved with Salon Appreciation Week? Encourage your clients to share their favourite stories about your salon with us on social media. Or share your own! Use the hashtag #SalonAppreciationWeek. Be sure to follow along with the @phorest.ukie Instagram page as the celebrations unfold.