There are many ways of building a following on Snapchat, but it does require a bit more effort than on Instagram or Facebook. Unlike those other social networks, on Snapchat, there are no likes, shares, or comments. You comment by sending a direct message to the user. Snapchat is what can be considered as an active network whereas other social media platforms tend to be more passive (auto-suggestions of people to add or follow, never-ending feeds, etc.). If you want to follow someone on Snapchat, you have to do the research work on your own. What if a salon management software could make this easier on salon owners?

A Salon Management Software Solution That Does It All
Our most recent feature on the Phorest Salon Software is our integration with Snapchat.Worry not members of the Phroest family, we will be sending you an email in the coming weeks when this is live on your software – we are currently putting the finishing touches to rest 🙂
Not only can you share before and after photos onto Snapchat through the software platform, but you can also grow a following effortlessly.
Phorest Salon Software allows you to send a tailored SMS to your clients announcing that you are now on Snapchat and inviting them to follow you. The default SMS template is set to:
"Hi <clientfirstname>, <salonname> is on SnapChat! Add us for exclusive content, offers & the latest styles: www.snapchat. com/yoursnapcode – Snap to it!"
Have a look for yourself; it's all in the marketing section of your Phorest software – the salon management software that really does it all!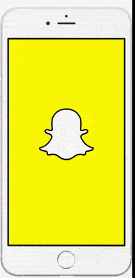 Snapchat SMS Invite Step-by-step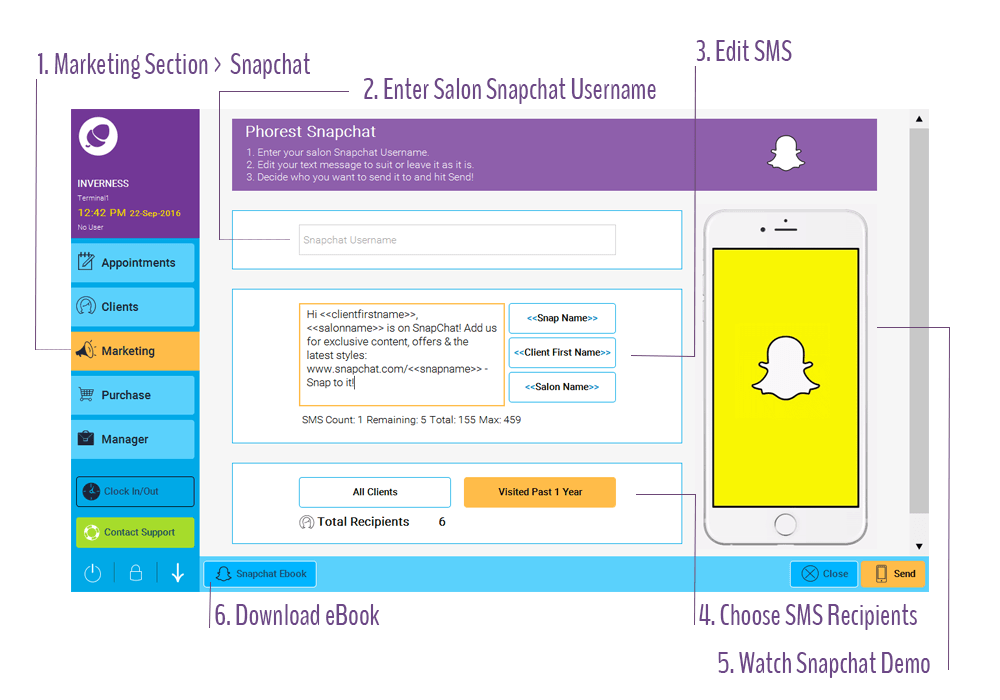 Open your Phorest Salon Management Software, and go to the Marketing section. Click on the Snapchat section (bottom-right, ghost icon).

The next screen you'll see is one with a demo video and other icons/text.

First, enter your Snapcode (Snapchat username).
N.B. If you have many branches to your salon, your Snapchat username will be saved under the business – not the branches. All your branches shall share the same Snapchat code.
Choose to use the default SMS template or create your own message!
Choose to whom you will be sending an SMS invite: all clients or clients that were in within the last year (if you repeat this operation in 6 months time, only those who have never got the SMS before will receive an invitation, even if you select "all clients"). Of course, this operation targets clients with a phone number on file. Click next.
Tap send at the bottom right of the screen when you're ready!
Building your Snapchat following has never been this easy; we promise you that.
Why Salon Owners Will Benefit From Being On Snapchat
Launched in 2011, Snapchat is not yet just another social media platform. It's a one-to-one and group messaging app that has now over 100 million monthly active users, making it one of the hottest social networks on the market. But Connor Keppel, our head of marketing here at Phorest shall walk you through the benefits for your salon of being on Snapchat. See below!
For more information on this untouched gold mine that is Snapchat, check out our other article right here!
Thanks for reading!
#LetsGrow
---
Unsure where to start? Download our brand new eBook – your ultimate bible to Snapchat – and access all sorts of information: a case study with Ellen Kavanagh from Waxperts, step-by-steps on how to set up an account, feature walkthroughs, marketing strategies, accounts to follow and much more!