We don't talk about barbershops a whole lot, but one thing they always do really well is their shop branding – indoors and outdoors! In some way, showing off their very own unique salon personality. Remember the last few times you took a stroll in the city. Did you notice any barber poles along the way? 🙂
There's plenty of things you can do in terms of decoration and design to show your clients and potential customers your own salon personality. So we're going to look at one of those points today: outdoor name signs!
4 sign styles for different salon personality types
Carefully designing a branded outdoor sign for your business is often overlooked when really, it's the first thing that can catch the eye of a passerby. Here are some few fun options to make you stand out and make a great long-lasting first impression.
Fascia Signs
These are great to show off a familiar salon personality. Depending on how far down the originality path you go, these signs can make for a fabulous introduction. Fully customisable, they're one of the most popular options!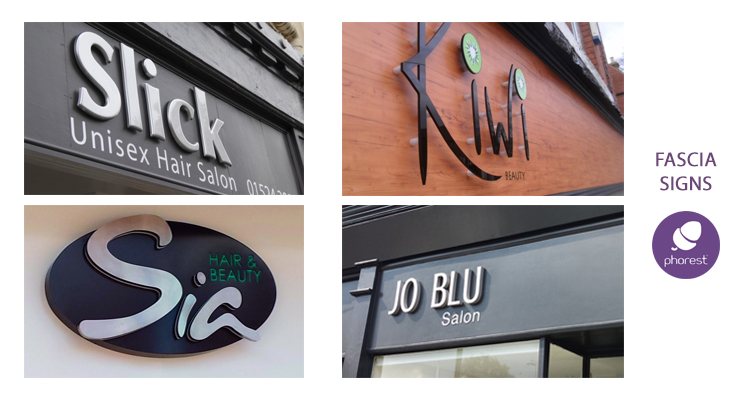 Projecting Signs
These kinds of signs are meant to draw attention to your business! Main advantage to projecting signs: they stick out and are visible from both directions. You can make these really fancy or simple, the options are all yours, really! They tend to project a most expensive feel to the passerby, but they stand out a whole lot more. It really depends on what you fancy your clients perceive you as! (These are also a fantastic way to stand out if your salon is situated on a narrow street).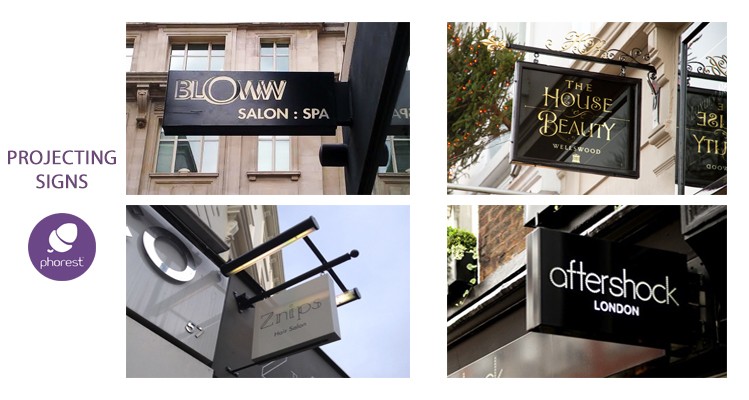 Window Graphics
Window graphics are a cost effective solution for your salon and are probably the most customisable option on the market! You could have your window branded 2-3 times a year (for Christmas for example 😉 ). Here's a few ideas to inspire your own salon branding! For more window display ideas, click here.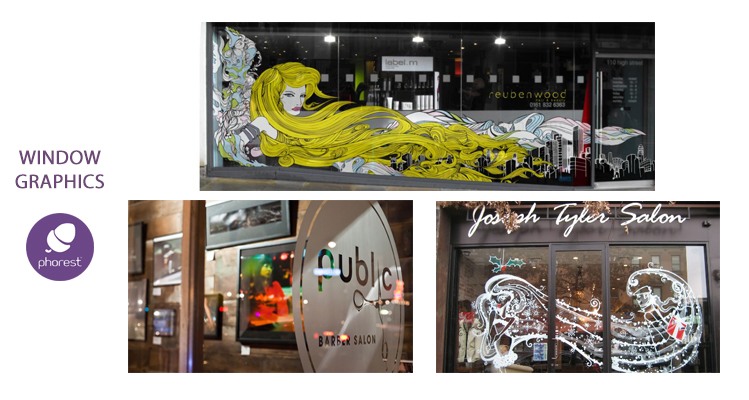 Chalkboard Signs
If you want to add value to your existing outdoor sign and salon branding, maybe go for a chalkboard sign! It's portable, you can use it in more than one place and best of all, you can truly show your salon personality by customising it every now and then (have a staff member who enjoys drawing to do your weekly board with chalk)! Chalkboard signs are the best way to make your customers laugh: funny offers, a quirky quote, a fun thought, creative salon-inspired poetry, NAME IT. Don't be afraid to go crazy with this one, it's supposed to be fun and a first way to engage with a potential customer. 🙂 For more salon chalkboard/street sign ideas, click here!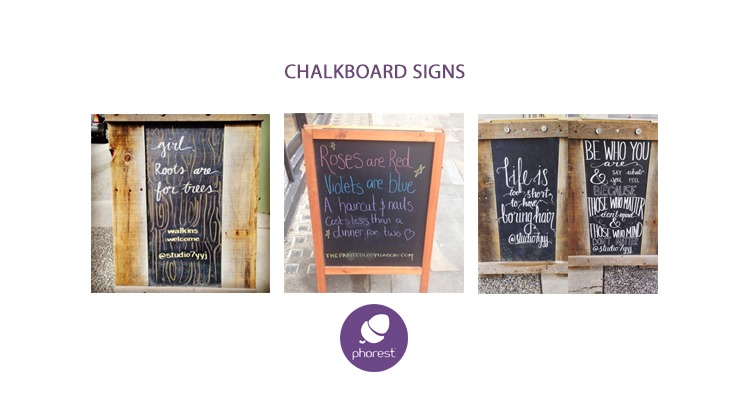 If you were to rebrand your salon's look, what would you go for? Let us know what your favorite style is and why in the comments!
Also, if you enjoyed this, then perhaps you might like this read: If Your Salon Was A Book… What Would The Cover Look Like? by Gill Morris
Want to learn more about the Phorest Salon Software? Fill out the form below to book a demo!
Thanks for reading!
#LetsGrow