When it comes to marketing your salon, every little helps and one of the most over-looked places to do so is via salon email signatures.
You might, at present, finish your email with your name and your salon number. However, well-crafted salon email signatures can be a low-cost, powerful marketing tool and we have come up with some easy-to-adopt ways for you to stand out from the crowd!
Salon Name:
Endings such as "best" or "regards" offer a warm yet formal ending to your correspondence. However, wouldn't you rather leave a lasting impression with a more unique sign off?
Why not try a play on your salon name as seen in the examples below?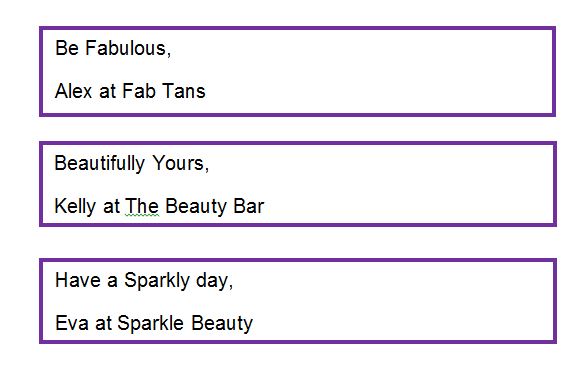 Email Topic:
Another idea is to compose your salon email signatures in a way that reflects the subject matter covered in the email. For example, if you've mailed your client about say, your latest shellac shades, why not sign off with something like "Yours for Manicures"?
Again, a subtle feature like this is the sort of twist that will remain in your clients' minds!
If you would rather be more obvious in your uniqueness, check out the example below. There can be no doubt that this visual, clever message will be remembered by clients.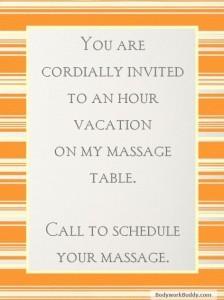 Colour & Font:

A business-card style email signature looks impressive and clear contact details help clients get their queries dealt with straight away. However, if you want to make an immediately visable change in your salon email signatures, why not opt for a pop of colour or a unique font?
Colour is the most powerful stimulus for the brain so, if you're looking to spark interest, why not choose to sign your name in a vibrant shade? Huckle The Barber provide us with the perfect example of how colour and font can truly reinforce your brand.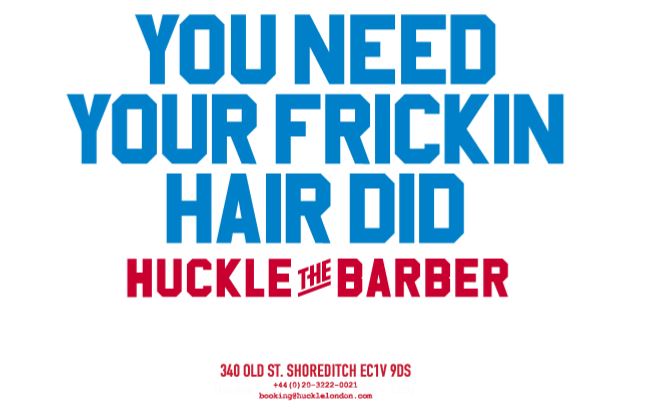 Fill That Space:
The area directly below your salon email signatures provides you with ample space for further marketing. This is something that you should take full advantage of as it is completely free and entirely up to you what you fill the space with!
The following are some ideas we have collated for you to include in your own salon email signatures: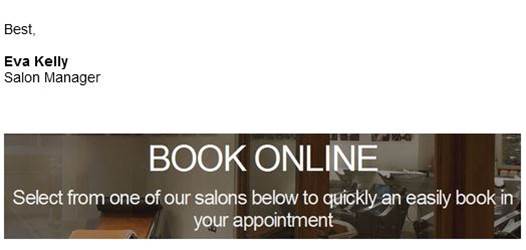 An email from your salon could remind clients that they are due a treatment. Providing a quick link to your online booking page gives them the chance to book in without the need to make a call!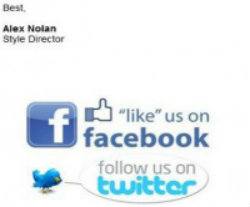 Make clients aware of your online presence by adding links to your various social media accounts.

Client testimonials are the most believable forms of marketing. Use those glowing reviews to increase your bookings!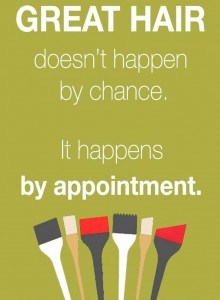 Reflect your salon's ethos or simply brighten somebody's day by including your favourite quote in your email signature.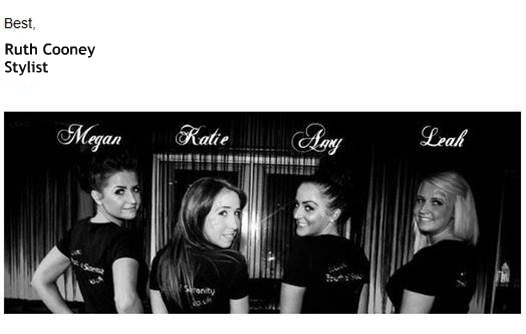 Make your salon appear more personable by popping in a great photo introducing clients to team members.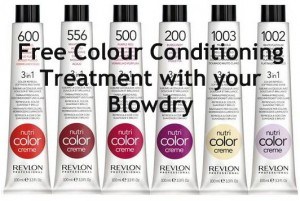 Your email signature provides you with ample space to showcase your latest deals. Be sure to take full advantage of this advertising opportunity!
Try what we call a "non-offer" – offer clients a treatment they have never had before. As seen in the image above, you could add an extra treatment with something your client is already paying for.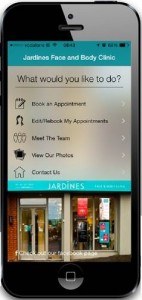 Use the space below your email signatures to let clients know about your salon branded app. This should encourage more downloads and, in turn, further bookings!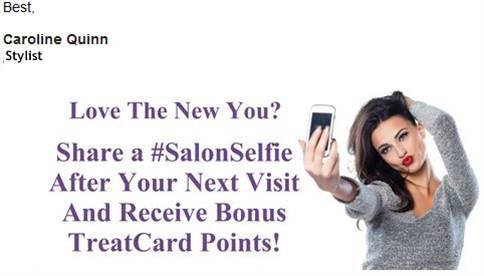 Increase business with offers surrounding the #salonselfie feature.
As you can see from the sheer amount of ideas in this mail, there are almost endless ways for you to improve your salon email signatures. Why not try one or two out today? Be sure to let us know how it goes for you.
If you have any further ideas feel free to pop them into the comments section below 🙂
Aoife Kelly-Cooney is the Marketing Assistant at Phorest Salon Software. Have a question for Aoife? Drop us an email here: marketing@phorest.com